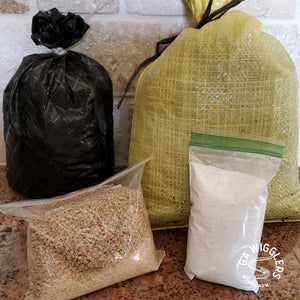 Worm Farm Starter Bag - Includes FREE SHIPPING!
Regular price
$72.00
$0.00
Unit price
per
Starter Bag Includes:
This special 
Worm Farm Starter Bag is shipped (or delivered/picked up) in the same bedding that the worms have been working for weeks. Healthy happy worms with reduced stress always INCREASES success guaranteed and that's exactly what this starter bag provides!!

All you do is add your Red Wigglers worms, active bedding and dolomite lime into your own bed or bin and you are ready to start composting! You will not need to add additional bedding initially to get your worms started, because this unique starter bag comes with thriving worms, active bedding and Worm Castings that instantly provides you with a jump start on your new composting project!

We recommend that you allow 24 hours for your worms to acclimate to their new environment and then begin your feeding process. After a couple of feedings your worms will begin to thrive, breed and multiply and before you know it your worm farm will be producing rich, nutrient filled Worm Castings for all your gardens and grow beds.
This product is only available for Shipping and Farm Pickup. Please contact us with any questions.
---